Professional Custom Acrylic Trophy Manufacturer
We are a professional manufacturer of acrylic trophies, founded in 2004, with 20 years of manufacturing experience. Our company is located in Guangdong, China, with modern production equipment and an efficient production team. We are committed to providing customers with high-quality acrylic trophies, and to the needs of customers as a guide, to provide customers with customized services.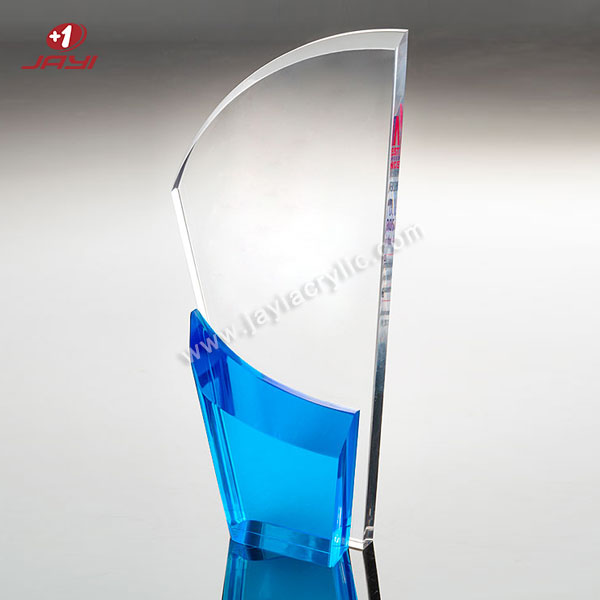 Unleashing the Power of Custom Acrylic Trophy
An acrylic trophy is a trophy made of acrylic, usually featuring transparency, high gloss, and sturdiness. Compared with glass or crystal products, acrylic trophies are more durable, less breakable and lighter, so they are widely used in some events and ceremonies. The appearance of the acrylic trophy can be customized, for example, printed text or logos can be inserted, etc.
Acrylic trophies can be made in a variety of shapes, colors, and sizes. The most common styles are stars, circles, and pyramids. The gifts are usually engraved with the company logo and bear the recipient's name. They have also been used at awards shows for many organizations.
Custom Acrylic Trophy Options
A) Choose the Trophy Shape According to the Award
When choosing the shape of the acrylic trophy, you need to consider the type of award being presented. Different award types require different trophy shapes, for example, a sports award may require a trophy with an athlete's image, while a corporate award may require a more concise design. In general, the shape of the trophy should match the award and be able to demonstrate the value and significance of the award.
B) Choose the Acrylic Sheet According to the Color
The color of the acrylic trophy can be achieved by choosing acrylic sheets of different colors. When choosing acrylic sheets, you need to consider the theme and color of the award, as well as the culture and customs. For example, red usually represents happiness and enthusiasm in Chinese culture, so when awarding awards, red acrylic sheets can be chosen to make trophies to highlight the theme and cultural connotation of the awards.
C) Select the Trophy Base According to the Award Logo
The trophy base is an important part of the trophy and can be personalised with a logo to show the brand and value of the award. When choosing the trophy base, you need to consider the logo and design of the award, and choose the appropriate materials and colors as needed. For example, different colored metal bases or acrylic bases can be selected, and processing processes such as printing or engraving can be used to achieve personalized signage and design.
Custom Acrylic Trophys for Different Shapes and Color
Explore options for custom acrylic trophies for clients in different industries. No matter what style you want, we can tailor the solution to your specific requirements. As a leading of custom acrylic products supplier in China, we are pleased to help you provide high-quality custom acrylic products suitable for your business.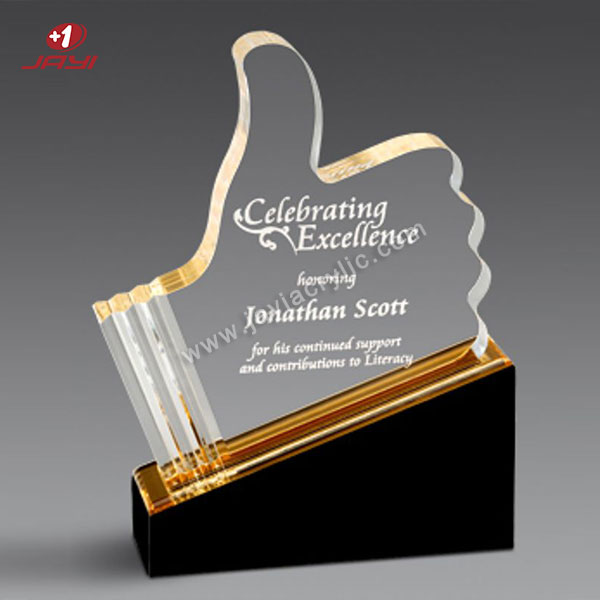 Thumbs Up Gold Acrylic Trophy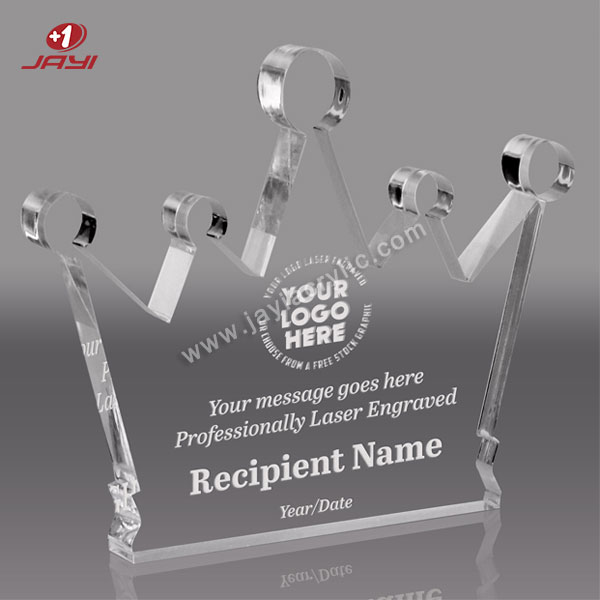 Engraved Acrylic Block Trophy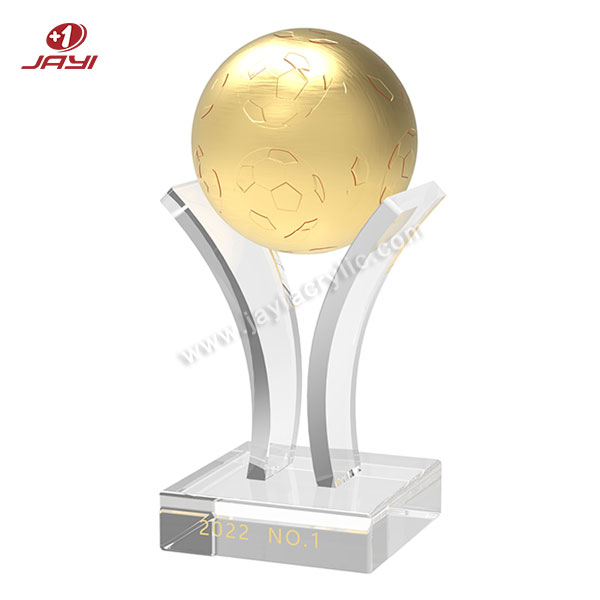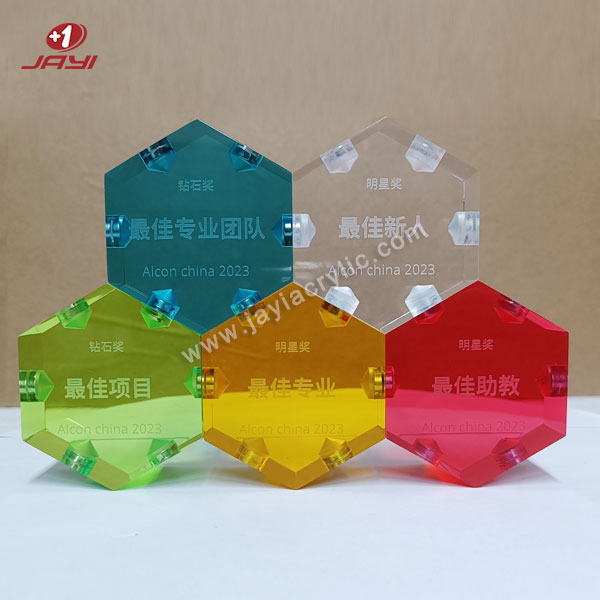 Magnetic Hexagon Acrylic Trophy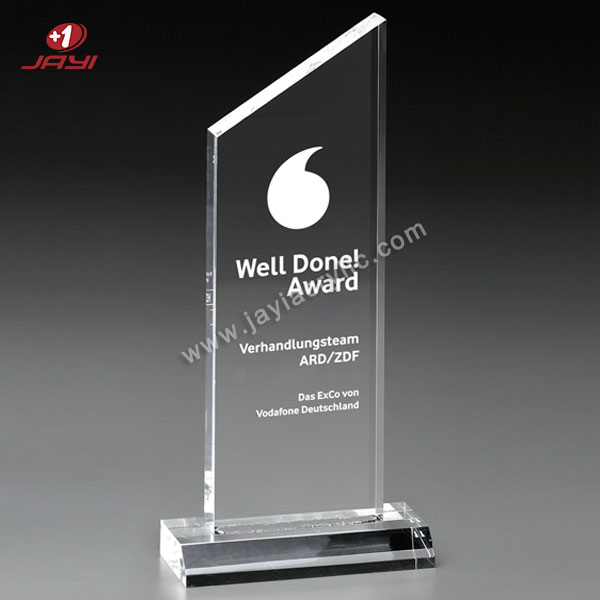 Customized Acrylic Trophy Awards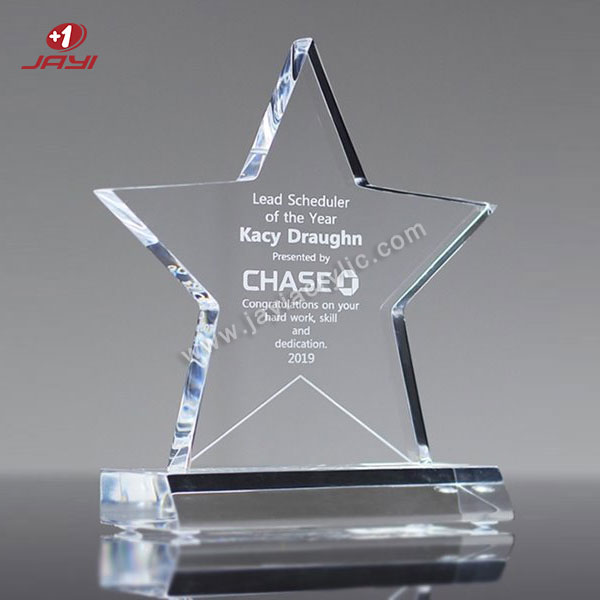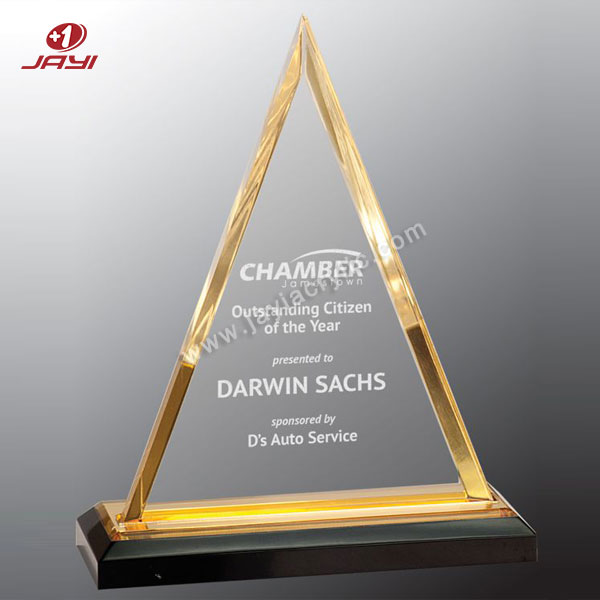 Gold Acrylic Pyramid Trophy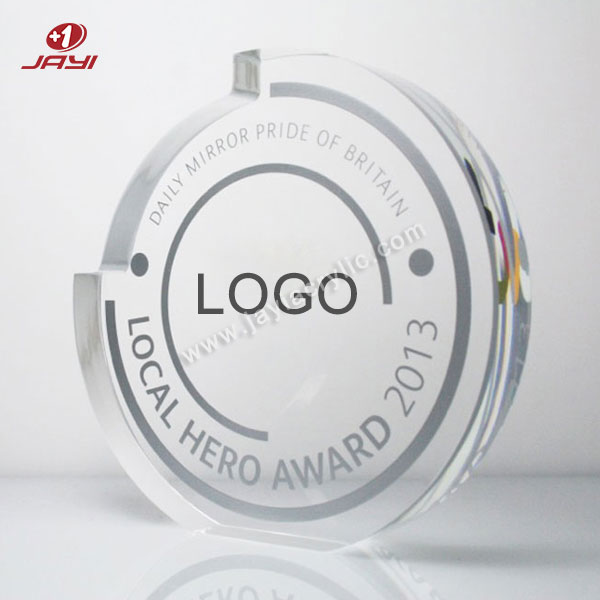 Custom Acrylic Trophy Design
A) Fully Customized Trophy
Fully customized trophies means that customers can design trophies that fully meet their requirements according to their own needs and ideas. Customers can provide their own design drawings or descriptions, and our design team will produce a preliminary design draft according to the requirements of customers, after the customer's confirmation, we will follow the design draft. In the process of fully customizing the trophy, customers can choose the shape, color, logo, font and other aspects of the trophy to meet their needs.
In addition to shapes and colors, logos and text are also an important part of custom acrylic trophies. Customers can add personalized logos and text on the trophy, such as the company logo, competition name, personal name, etc., to increase the value and meaning of the trophy. Customers can choose different fonts, colors, sizes, and other aspects according to their needs and ideas to show personalized design effects.
C) Personalized Design of the Trophy
In addition to fully customizing the trophy and adding logos and text, there are other ways to personalize the trophy. For example, you can add patterns, patterns, pictures, and other elements to the trophy to increase the decoration and beauty of the trophy. At the same time, different design effects can be achieved through different processing processes, such as engraving, spraying, printing, etc. Customers can choose different design elements and processing processes to achieve personalized trophy design effects.
How to Custom Acrylic Trophy Awards?
Just 4 Easy Steps to Start Your Project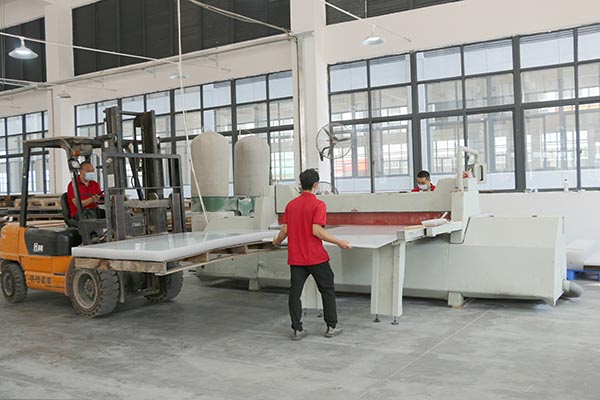 You can send us the drawings, and reference pictures or share your ideas for the acrylic trophy you want. And you'd better tell us clearly the quantity and delivery time you need.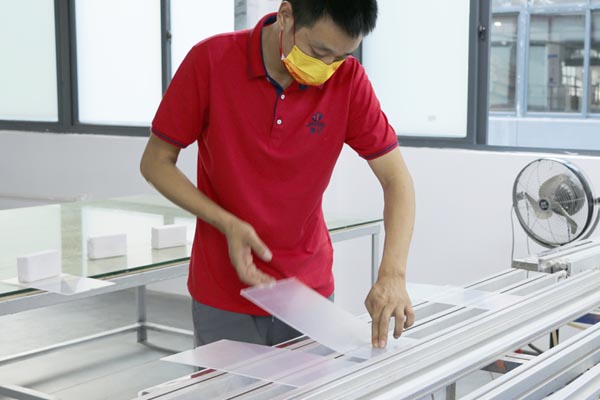 3. Sample Acquisition & Adjustment
If you are satisfied with our quotation, we will prepare product samples for you in 3-7 days. You can confirm this with physical samples or pictures and videos.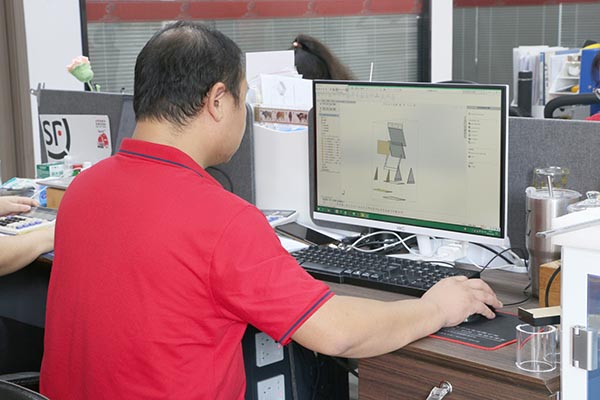 2. Organize Quotation & Solution
According to your specific acrylic trophy design requirements, we will arrange a detailed product quotation and solution for you within 1 day.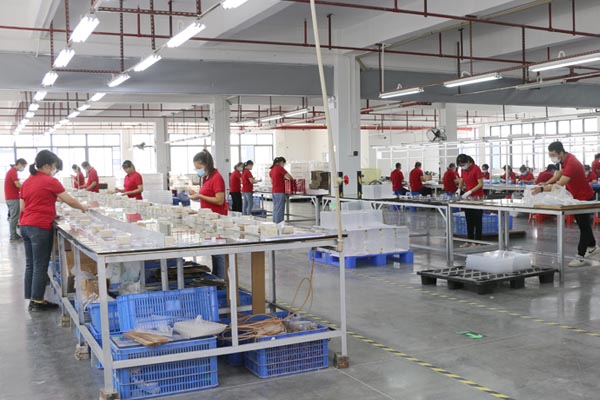 4. Approve Mass Production & Transportation
After you confirm the sample, we will start mass production after receiving the deposit. Production time is 15-35 days
  Still, confused by the custom acrylic trophy awards ordering process? Please contact us immediately.
Custom Acrylic Trophy Manufacturing
A) Process and Process Overview
The manufacturing process of acrylic trophy mainly includes the following steps: First, according to the customer's requirements and design draft, the acrylic sheet is cut into the required shape and size; Next, the acrylic sheet is heated in an oven or hot press to soften it, and then molded into the shape of the trophy; Next, the trophy is polished, polished and cut by machine or hand to make the trophy surface smooth, smooth and beautiful; Finally, the trophy and the base are assembled together and inspected and packaged.
B) Quality Control in Manufacturing Process
In the process of manufacturing acrylic trophies, we will carry out quality control on each process link to ensure the stability and consistency of the quality of the trophies. We use high-quality acrylic sheets to ensure the transparency and durability of the trophy. During the heating and shaping process, we control the temperature and time to ensure that the shape and size of the trophy meet the design requirements. During the processing and assembly process, each trophy is inspected to ensure that the trophy surface is flat, smooth, and free of scratches and bubbles and that the trophy and base are firmly assembled.
C) Production Time and Delivery Time
The time it takes to make acrylic trophies depends on the number of trophies and design requirements. In general, the production time of custom trophies takes 3-7 working days, but if it is mass-produced, it will take longer. For urgent orders, we can try our best to shorten the production time. Delivery times also depend on the number and location of the order, and we will arrange delivery as soon as possible and ensure that the trophy reaches the customer safely and completely.
Unparalleled Edge We Offer
From designing to manufacturing and finishing, we combine expertise and advanced equipment to deliver high-quality products. Every custom acrylic product from Jayi Acrylic stands out in appearance, durability, and cost. 
Maintenance and Use of Acrylic Trophies
A) How to Keep the Acrylic Trophy Beautiful?
In order to maintain the beauty of the acrylic trophy, you need to pay attention to the following aspects:
(1) Avoid long-term exposure to sunlight or high-temperature environment, so as to avoid discoloration or deformation of acrylic.
(2) Do not use organic solvents, alcohol or ammonia, and other chemical agents to clean the surface of the acrylic trophy, so as not to damage the acrylic material.
(3) Use a soft dry cloth to gently wipe the surface of the acrylic trophy, while avoiding the use of brushes or hard objects to wipe, so as not to scratch the acrylic surface.
(4) When storing the acrylic trophy, it should be placed in a dry and ventilated place, and avoid friction or collision with other items.
B) How to Use Acrylic Trophy Correctly?
The correct use of acrylic trophies can extend their service life and maintain their beauty.
(1) When using acrylic trophies, avoid violent collisions or falls.
(2) Do not use acrylic trophies to load high-temperature or irritating liquids to avoid deformation or damage to the acrylic.
(3) When using acrylic trophies, the trophy should be avoided on an unbalanced surface so as not to tip over or collapse.
(4) When cleaning the acrylic trophy, you should use a soft dry cloth to gently wipe, avoid wiping hard or using tools such as brushes to scratch the surface.
The Advantages of Custom Acrylic Trophies
A) The Advantages of Custom Trophies
The biggest advantage of custom trophies is that they can be tailored to meet the individual needs of customers according to their needs and requirements. Customers can freely choose the shape, color, logo, font, and other aspects of the trophy to meet different design requirements. At the same time, custom trophies can also increase the value and meaning of the trophy, becoming a unique gift or reward.
B) The Advantages of Acrylic Trophies
Acrylic trophy is a high transparency, high toughness, high durability material, with the following advantages:
(1) High Transparency: Acrylic material has high transparency, which can show the design and decorative effect of the trophy.
(2) High Toughness: Acrylic material has high toughness, not easy to break and damage, and can ensure the safety of the trophy.
(3) High Durability: Acrylic material has weather resistance and chemical resistance, is not easily affected by ultraviolet light and chemicals, and can maintain the beauty and stability of the trophy.
(4) Easy Processing: Acrylic materials are easy to process and can be made into trophies of various shapes and sizes, while a variety of surface treatments and decorations can be carried out.
C) Comparison with Other Materials
Compared to other materials, acrylic trophies have the following advantages:
(1) Compared with glass materials, acrylic materials are more portable, not easy to break, and have higher safety.
(2) Compared with metal materials, acrylic materials are not easy to rust and oxidation and the color is more rich and more diversified.
(3) Compared with ceramic materials, acrylic materials are more durable and impact resistant, not easy to break and crumble.
In short, custom acrylic trophies with personalized, high transparency, high toughness, high durability and other advantages, is an ideal trophy material.
We focus on providing customers with high-quality, personalized acrylic trophy customization services. Whether you need a beautiful corporate souvenir, a group honor trophy, or a personalized personal gift, we can meet your needs.
Custom Acrylic Trophy: The Ultimate Guide
Jayi Acrylic promotional trophies are the perfect way to show how good you are at your job. Our personalized trophies can be customized with your company logo and message, making them a unique and memorable way to show your gratitude. Our custom trophies are made of quality acrylic, ensuring they stay shiny. So if you're looking for a way to show your appreciation, check out our promotional trophies!
How To Make Acrylic Trophy?
Here are the general steps involved in making an acrylic trophy:
1. Design the trophy using a 3D modeling software program.
2. Create a mold of the trophy design using a CNC router or laser cutter.
3. Heat and mold acrylic sheets into the shape of the trophy using the mold.
4. Polish and buff the trophy to achieve a glossy finish.
5. Engrave or add any desired designs, logos, or text onto the trophy using a laser engraver or etching machine.
6. Attach any additional components such as metal plates or bases.
7. Inspect and package the finished trophy for delivery.
Can Acrylic Be Used For Trophies?
Yes, acrylic can be used for trophies.
Acrylic is a versatile material often used to create acrylic trophies which can be created in any shape or style. Acrylic is a durable and versatile material that can be molded into various shapes and sizes, making it an excellent choice for creating trophies. Additionally, acrylic can be customized with different colors, designs, and engravings to create unique and personalized trophies for any occasion.
Is Acrylic Better Than Crystal For Trophy?
As to whether acrylic or crystal is better, it depends on the specific needs and preferences of the individual or organization that commissioned the trophy. Acrylic is usually cheaper, lighter, and less likely to break than crystal. Crystal, on the other hand, is denser and more reflective, and some find it more visually appealing and appropriate as a trophy. On the other hand, crystal trophy awards are scratch-resistant, although acrylic awards may be more impact-resistant when it comes to general wear and tear, acrylic is more prone to scratches.
Ultimately, the decision between acrylic and crystal will come down to factors such as budget, aesthetic preferences, and durability requirements.
Do Acrylic Awards Feel Cheap?
Acrylic trophy awards are made from molded plastic. Because plastic does not transmit light like glass or crystal, they do NOT sparkle or reflect light like crystal does. Crystal also weighs more than plastic so when you hold an acrylic award it tends to "feel" cheap.
Acrylic trophy awards can vary in quality and appearance, but generally, they do not feel cheap. They are lightweight and durable, and when designed and crafted well, can be quite elegant and impressive.
How Thick Is Acrylic Trophy?
The thickness of the acrylic trophy can vary depending on the type and size of the trophy. Typically, acrylic trophies range from ¼ inch to 1 inch thick.
 Jayi Acrylic provides 1 "thick for additional weight and company appearance options. All of our acrylic trophies are beautiful standard square edges.
What Is The Standard Size For An Acrylic Trophy?
There is no standard size for an acrylic trophy as it can vary depending on the design and purpose of the trophy. However, common sizes range from 6-12 inches in height.
What Can I Do With Old Acrylic Awards?
Here are a few things you can do with old acrylic awards:
1. Donate them to a local school or community organization. Well-known charities like the Salvation Army and Goodwill may take your gently used trophies,  but call your local branch first because not all of them have the same rules. Some nonprofits or schools also may be interested in old trophies to reuse for their own activities (for instance at a sports day for kids.)
2. Recycle the acrylic material if possible.
3. Use them as paperweights or decorative pieces in your home or office.
4. Repurpose them into new objects, such as coasters or keychains.
5. Resell them online or at a garage sale.
How Do I Clean Acrylic Trophies?
My advice is to use room temperature or warm water whenever possible. Apply mild dish soap to a clean cloth or sponge that has not been rubbed against anything else. Gently wipe the surface of the acrylic trophy with this soapy cloth. Remove any dirt or stains. Rinse well with water and dry with a soft towel. Avoid abrasive materials or harsh chemicals that can scratch or damage acrylic surfaces.
Other Types of Acrylic Products